Support Us!



I found this on another forum, I must say I was quite amazed and am considering buying a DS
just
for this game.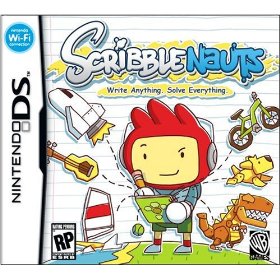 This was a game that took everybody by surprise at E3. (A huge gaming conference), here's the basic overview of the game.
The game is called Scribblenauts and it's only on the DS. Here's the basic sales pitch:

Scribblenauts is simple; quite literally, anything you write, you can use and reuse in the game. Players use the DS' touch-screen and the in-game notepad/keyboard to help their character, Maxwell, as he moves throughout 220 increasingly difficult levels on his never-ending quest for the star-like "Starites."

To solve the spatially oriented puzzles, players describe objects via the notepad/keyboard, which in turn appear on the game screen to help Maxwell. There are literally thousands of items in the game, both ordinary things like ladders, ropes, cars and buses, to the outlandish items, such as invisibility cloaks, pirates and black holes. The game is all about experimentation, imagination and endless replay value as players open their minds to the nearly limitless possibilities that are sure to make Scribblenauts unlike any side-scrolling platformer they have ever played.
Now for the good stuff, here's a review from neogaf.com which made me truly realize that there are no bounds to the badassery of this game:
Quote:
I had played all the big titles at E3. Private showings of God of War III, Heavy Rain, Alan Wake. But at 4:00 on Thursday, I was wandering around the show floor, wondering what else I had to see. I saw a small little booth for "Scribblenauts!" in the Warner Bros. Interactive Entertainment section. I mean, who goes to that booth? But I remember hearing about it on GAF, and so I decided to check it out.

Best game of E3? Without a ****ing doubt. Anyone who says otherwise did not play Scribblenauts. Best game of all time? Jesus Christ, I don't know, maybe. It's a game that challenges your IMAGINATION. No other game has ever done that.

So listen to this story. I was in the early levels; I didn't quite have an idea of how ridiculously in-depth the database was. I was summoning things like ladders, glasses of water, rayguns, what have you. But I reached a level with zombie robots, and the zombie robots kept killing me. Rayguns didn't work, a torch didn't work, a pickaxe didn't work. In my frustration, I wrote in "Time Machine". And one popped up. What the ****? A smile dawned on my face. I hopped in, and the option was given to me to either travel to the past or the future. I chose past. When I hopped out, there were ****ing dinosaurs walking around. I clicked one, and realized I could RIDE THEM. So I hopped on a ****ing DINOSAUR, traveled back to the present, and stomped the shit out of robot zombies. Did you just read that sentence? Did you really? I ****ING TRAVELED THROUGH TIME AND JUMPED ON A DINOSAUR AND USED IT TO KILL MOTHER****ING ROBOT ZOMBIES. This game is unbelievable. Impossible. There's nothing you can't do.

Holy ****ing shit.
Here's a quick developer walkthrough vid from E3:
https://www.youtube.com/watch?v=j3HXgvl8lp0
The game launches in september, and seeing as my birthdays in october, I think I know what I'll be asking for this year. (Before this game I had absolutely
No Interest
in a DS)
One last tidbit, The developers have said there are going to be "tens of thousands" of nouns in the game. The only limits are:
Concrete Objects Only
No Proper Nouns
No Copyrighted Words
No Adjectives
E-E10 rated words only - this means No Vulgar/Offensive/Lewd/Drug/Alcohol related words
Thanks to Chiefsplanet's Media Center board for enlightening me on this incredible game.
If only I had a D.S. I would buy this game in a heartbeat.
I have a game sort of like that on the PS@ called Magic Pengel you have to dram the characters and fight with them.

__________________________________________________
[quote="Donald Williams"]Jake is the epitome of cool.[/quote]

JakeTheSnake

Moderator








Post Count

: 1150


Age

: 25


Registration date

: 2008-06-26




---
Permissions in this forum:
You
cannot
reply to topics in this forum